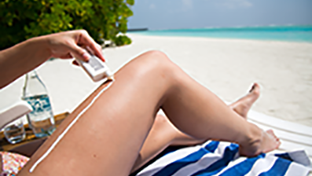 INCI Name
Benzophenone-3
Product performance and Application
ShieldBiso-BP3 is an oil soluble UVA+UVB sunscreen。
It has the following characteristics:
1. High yield, non-toxic, no teratogenic effect, good stability to light and heat.
2. Class I sunscreen approved by FDA is used more frequently in the United States and Europe. It is widely used in sunscreen products such as cream, cream, lotion and oil.
3. With carbon, oxygen and hydrogen as the matrix, it mainly absorbs UVB and UVA with short wavelength.
4. Keep stable under the light and exert its effect when exposed to the sun.
Storage: stored in a dry and cool place, sealed for 2 years
Package: 25kg per cardboard 
Addition amount: ≤ 6%
Technical information
Trade name:ShieldBiso-BP3
INCI name:Benzophenone-3
CAS:131-57-7
Another name:Oxybenzone;2-Hydroxy-4-Methoxybenzophenone
Property: Light yellow powder
Document download
Application experience