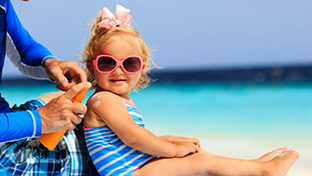 INCI Name
Ethylhexyl Triazone
Product performance and Application
ShieldBiso-EHT is an oil soluble UVA+UVB sunscreen。
It has the following characteristics:
1. It has strong absorption capacity of UVB, strong photostability, strong water resistance, and good affinity for keratin of skin.
2. The effective absorption wavelength is between 290-320nm. Combined with ShieldBiso-A plus can improve SPF.
3. Generally, it has no effect on pregnant women and is not acne causing.
4. The A1/1 value is high, and a small amount of concentration is required in the preparation of sunscreen products to achieve a high sunscreen index.
Storage: stored in a dry and cool place, sealed for 2 years
Package: 25kg per cardboard 
Addition amount: ≤ 5%
Technical information
Trade name:ShieldBiso-EHT
INCI name:Ethylhexyl Triazone 
CAS:88122-99-0
Another name:Uvinul T 150
Properties: white to light yellow powder
Document download
Application experience