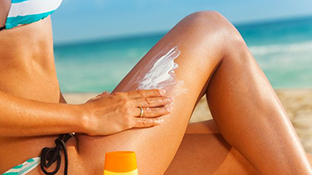 INCI Name
Diethylamino Hydroxybenzoyl Hexyl Benzoate
Product performance and Application
ShieldBiso-A PLUSIt is an oil soluble UVA sunscreen。
It has the following characteristics:
1. It is the only UVA sunscreen with photostability in the market. It can completely replace avobenzone. ABZ and OMC share the effect of mutual influence. ShieldBiso-A Plus maintains good stability, thus providing reliable UVA protection.
2. It has excellent solubility and excellent formula flexibility. It can be dissolved in most cosmetic oils or solvents, and it is easy to achieve 10% dosage. It is very suitable for alcohol transparent system.
3. It has good compatibility with other sunscreen agents and cosmetic raw materials.
4. It has excellent free radical protection ability.
Storage: stored in a dry and cool place, sealed for 2 years
Package: 25kg per cardboard
Addition amount: ≤ 10%
Technical information
Trade name:ShieldBiso-A Plus
INCI name:Diethylamino Hydroxybenzoyl Hexyl Benzoate
CAS:302776-68-7
Another name:Uvinul A Plus
Properties: white powder
Document download
Application experience