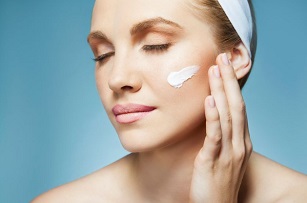 INCI Name
Hydroxypinacolone Retinoate
Product performance and Application
Hydroxypinacolone Retinoate is the latest generation of highly effective non irritating VA, the first choice of Anti Wrinkle ingredients and VA derivatives in cosmetics. 
As everyone knows, retinoids, including retinol (A alcohol), retinol palmitate and vitamin A acid, are the most powerful anti-aging ingredients. But in fact, only retinoic acid has direct biological effect on skin. Unfortunately, retinoic acid is used as a prescription drug in most areas, and it is easy to cause skin adverse reactions, such as peeling, redness and photosensitivity. This also limits the use of it. 
There are corresponding enzymes in human body that can convert retinol (a alcohol) and retinol palmitate into retinoic acid in several steps. This can greatly reduce the side effects of retinoic acid.
Hydroxypinacolone Retinoate is a new generation of retinoic acid ester. Unlike other retinoic acid derivatives, it can directly produce effects without conversion. Its principle is similar to that of all trans-a acid (Tretinoin). Compared with vitamin A acid, the stimulation of Hydroxypinacolone Retinoate is much less. It is safer to use around the eyes, and its transdermal rate is better.            
Hydroxypinacolone Retinoate has the following characteristics: 
1.No risk of adverse reactions, low stimulation
2.Higher activity 
3.Better stability
4.Because of the direct effect of super VA, the effect is faster than that of traditional retinol. The anti wrinkle effect was effective in 14 days.
Technical information
Trade name:ActiBiso-HPR
INCI name: Hydroxypinacolone Retinoate
CAS: 893412-73-2
Document download
COA
Application experience