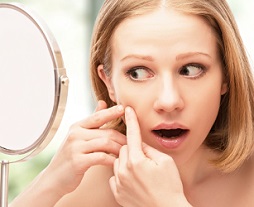 INCI Name
Azeleic Acid
Product performance and Application
ActiBiso-AA (Azeleic Acid) is a natural chemical substance, which belongs to dicarboxylic acids. In skin care, it is most commonly used to treat acne. 
However, azeleic acid also reduces melanin production by inhibiting (mainly indirectly) tyrosinase. It can also inhibit the proliferation of abnormal melanogenesis cells by reducing the speed of DNA synthesis.
Azeleic acid has been used to treat pigmentation such as chloasma and lentils. 
Azeleic acid has anti-inflammatory, antioxidant, antibacterial and anti acne effects.           
Azeleic acid is used in emulsion, cream, moisturizing cream, anti-aging serum, cleansing cream, conditioner, shampoo, toner, astringent, foundation cream and concealer.             
Added amount: 1-10%
Technical information
Trade name: ActiBiso-AA
INCI name: Azeleic Acid
CAS: 123-99-9
Appearance: White crystal powder
Document download
Application experience